Vendron
®
Cube
(smart vending retrofit)
Silkron's patent-pending Vendron Cube is a bundle of Vendron software optimized on embedded hardware, to enable the vending operators with rapid and cost-effective retrofit of smart vending capabilities on to their existing conventional or old vending machines and to turn them into touch screen vending machines
Vendron Cube can be easily configured with various sizes of touch display, payment devices and other peripherals.
---
Technical Specification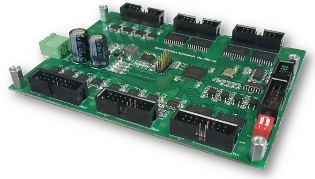 Smart Vending Software
Vendron®, on Embedded Linux system, Ready to connect to Vendron Cloud.
CPU
Intel® Celeron® Processor N3060 (2.48GHz,2M cache)
Memory & Storage
DDR3 2GB & eMMC 32GB
Vending Machine Interfaces
- Support most conventional or old vending machines of push button or keypad selection type
- Additional inputs and outputs for other switches and sensory inputs
Interfaces
USB 3.0 x 4
USB 2.0 x 1 (mUSB)
Mic In/Line out x 1
LAN RJ45 x 2
(Gigabit Ethernet)
COM port x 2 (RS-232)
SIM card slot x 1
Full size mini PCIe slot x 1
Half size mini PCIe slot x 1
Graphics
Integrated Intel® HD Graphics 400, 320MHz
base frequency (600MHz, dynamic max)
- support Full HD 1080p
- HDMI connector x 2
Optional Payment Option
Cash & Cashless Payment, Loyalty Card, Reward Points, Mobile wallet, Identity Validation
Dimension
140 x 107 x 45 mm
Wireless
WiFi
Mobile wireless module (4G LTE / 3G)
Optional Interfaces
MDB
Touchscreen display
---
---
Please get in touch with us to know more about our Vendron Cube and how it can assist you in retrofitting your conventional or old vending machines into smart vending machines.